Otanjoubi Omedetou Gojira-san!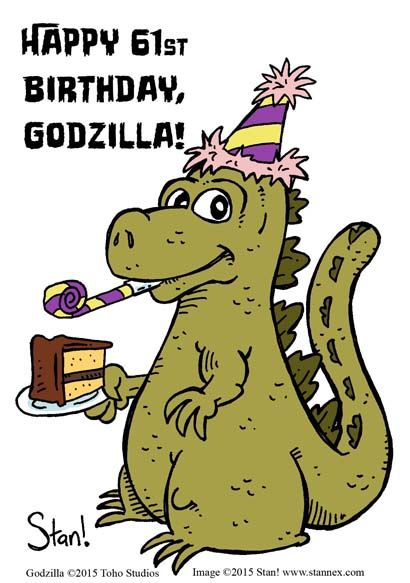 On this day in 1954, the movie Gojira had its premiere . . . and the world (particularly the city of Tokyo) has never been the same since!
As anyone visiting this site probably knows, I'm a big fan of the Big G, and I have been ever since I first unwittingly tuned in for a broadcast of the movie Monster Zero on an episode of Chiller Theater sometime in the early 1970s. Nowadays I own just about every Godzilla film (some in multiple media) plus a bunch of the soundtracks. I revel in my fandom as, unlike most of the other passions of my youth, I haven't yet managed to forge a professional link between me and my favorite monster . . . but I'm still trying (and the fact that I'm doing localization for the current Ultraman manga means the gap is narrowing).
Sixty-one years of movies, TV shows, comics, and audio dramas . . . famed in song, advertising campaigns, and forgettable Bobcat Goldthwait movies . . . and still riding high with upcoming movies scheduled for 2016 (from Toho) & 2018 (from Legendary Pictures) and a "Godzilla vs. King Kong" film in the works (but not yet with a release date). So soothe your atomic breath with a slice of birthday cake for the Big G. He's got a lot more stomping yet to do!